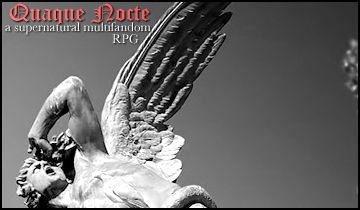 ILLEGITIMI NON CARBORUNDUM
In Allupato, weird things have always happened.

Things like bodies found without an ounce of blood in them, or ripped apart by animals even in the middle of the city. The people lock their doors at night and keep their windows closed even in the warmer weather out of fear for what lurks out in the dark. They cannot explain what it is out there, but they know it isn't any good. The appearance of the group Chrysalis has only scared them further with their words of a virus and the almost threatening claim that they will eradicate it at all costs..

It seems the things that go bump in the night are the ones who should truly be scared.

INFORMATION
Quaque Nocte is a supernatural-based Alternate Universe multifandom game. Basically you'll be taking your characters from their canon and adapt them to be in Allupato, Italy. In Quaque Nocte they can be fey, or vampires, or werewolves, or they can even remain human. It's up to you.

The game is now open, and we have no taken Xenogears/Xenosaga characters! Please feel free to read up on the information provided, and see if you'd like to come play with us.

Game Information
FAQ
Information on Races
Rules
Taken/Reservations List
Wanted List
Application